Py art of war = when players attention are at the main gate of Toy r us opening, go to the other hunting spots immediately.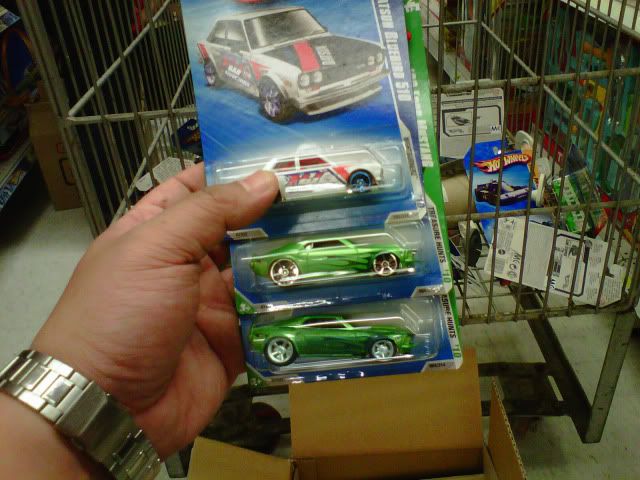 Well and that is what I did. Went to carrefour and managed to find these before they punch a hole in the card or the bubble. Saved the most important ones but for one which was a regular I think kena tebuk. Left it there. However the women staff here are player haters, they were quite reluctant to show me the box. One of them even said, cari hijau ke, tak ada la (searching for green? ...there are none).....but if you know the mustang case which starts with "M", you know that the thunts are found at the bottom of the two tiers. Which means these staff also must have known about the thunts in Alamanda Putrajaya Carrefour and searched at the top but found none. So I insisted on seeing the boxes and I was lucky to find these without them seeing and thanked them.
Passed by Toy R us and spotted all the other players. By the way from the looks of it, it was the impala wave which hit the Toy R us. Bought some cars from there since I was there. This time the players were more polite, no cards on the floor. Anyway moral of the story is, you cannot be in tow places at once. You either sacrifice one or the other. This time I was lucky.
Anyway that is my story for today. Thanks for reading.